Sophia Satyana
About The Author
One of my favorites by Marianne Williamson
"Our deepest fear is not that we are inadequate. Our deepest fear is that we are powerful beyond measure. It is our light, not our darkness, that frightens us most. We ask ourselves, 'Who am I to be brilliant, gorgeous, talented, and famous?' Actually, who are you not to be?
You are a child of God. Your playing small does not serve the world. There is nothing enlightened about shrinking so that people won't feel insecure around you. We were born to make manifest the glory of God that is within us. It's not just in some of us; it's in all of us. And when we let our own light shine, we unconsciously give other people permission to do the same. As we are liberated from our own fear, our presence automatically liberates others."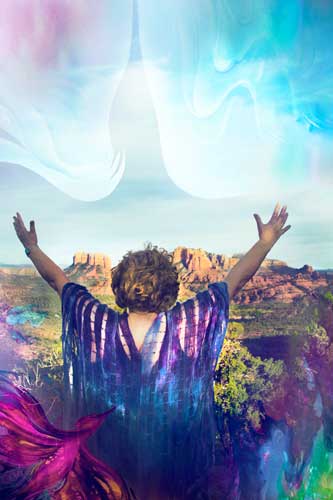 My Pen Name is Sophia Satyana, and I am an Amazon Best Selling Author, healer and teacher, and reside in beautiful, magical Sedona, AZ. Nature, walks with her dog in the red rocks, traveling, reading, movies, gardening, art, and music, and writing my next book fill my days.
I was born and raised in a small town in the Midwest and worked and put myself through the University of Wisconsin majoring in Art Education. After graduation I taught Art (Grades K-8) in an 'inner city' school in Phoenix for 11 years.
Though I loved the desert and mountains of the Southwest, I moved back to the Midwest to marry my husband and lived there until his recent death. Leaving my corporate management position in Customer Service, I pursued the world of Energy Work and Healing.
I am a certified Reiki Master Teacher, skilled in personal and distance healing, and teaching others to empower themselves. Angel Healing, Crystal Healing, Past Life Healing, and other modalities are used in my practice.
The ThetaHealing® technique, and Teacher Certification trainings are at the core of my current work. In 2010 I spent the summer in Idaho taking all offered teacher training classes with the founder of the ThetaHealing® Technique, Vianna Stibal.  The summer of 2014 I recertified, taking new classes offering with the most up to date information. I hold a Certificate of Science in the ThetaHealing® Technique.
I would like my book, My Perfect Husband's Life to be an inspiration to all who face impossibly traumatic and life-changing situations in their relationships, finding the courage to heal and create a new life like the phoenix (book cover image), becoming radiant, sovereign, healed, happy and whole again.  This is why I am sharing my story with others; to open up the secrets, see the truth, heal, and move forward so we each may be all we are meant to be on this earth.